MAPILab Reports 2008

Current version: 1.3.0
MAPILab Reports 2008 - an effective solution that provides reports about the state of enterprise IT-infrastructure, security audits, inventory of hardware and software, and preparation for migration and upgrade. The product's historical and statistical reports allow changes in infrastructure to be clearly presented and evaluated, so that accurate prognoses and relevant development plans can be made.

Data collected by MAPILab Reports:
Active Directory reporting, Report Pack for Network Infrastructure:
Active Directory Objects: domain controllers, AD forest, organizational units, users (accounts, lists, activity level) and user groups (membership, nestling, properties), computers, printers, group and local policies.
Local computer resources and network resources: hardware (see example, PDF, 270 Kb), operating systems and updates, environment configuration, installed software (see example, PDF, 318 Kb), services, event logs, shared resources, printers, and scheduled tasks.
Security: unprotected objects, access rights, remote access, domain and local security policy, user membership in groups.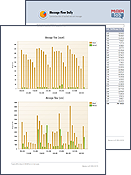 Exchange Server reporting, Report Pack for Microsoft Exchange Server:
Servers and their traffic: configuration, connectors, delivery times, internal/external traffic, inter-server traffic, connector traffic
Messaging: storage sizes and growth tendencies, number and volume of boxes and folders, message flow rate (see example, PDF, 414 Kb ), sender/recipient, traffic among users, user groups and departments, etc.
Mailboxes and public folders: properties, rights, sizes, location, quotas, type and sizes of elements.
Senders/Receivers: addresses, groups, distribution lists, activity level.
Outlook Web Access: users, sessions, settings.
Program Features:
Agentless collection of data. Deployment of the product is completely safe. Data collection is performed remotely without the installations of agents on workstations and servers.

Simplicity of implementation. The program and database can be installed on any workstation or server. Unlimited number of operator consoles can be installed for report viewing.

Automatic data collection and report creation. After initial setting of the collection and report generation parameters, the program will automatically create reports and send via email, publish on FTP or SharePoint, or save in a file on a disk.

Interactive reports. Filters and sorting modes can be applied to reports initially or during viewing. Thus the optimal view of a report can be prepared for printing or presentation.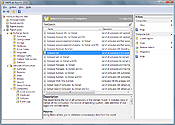 Changeable report designs. Changes in the components and the appearance of all reports can be made using the Report Designer tool. A corporate template using company colors and logo can be created using the Style Designer.
Report management through Microsoft Management Console. MAPILab Reports can be plugged into the existing administrative tools of the IT-personnel.
Comprehensive analysis of IT-infrastructure. The program includes packages of reports about network infrastructure and Microsoft Exchange Server. Report packages for Microsoft SharePoint Server, Microsoft Internet Information Services, Microsoft Internet Security and Acceleration Server and Microsoft SQL Server are forthcoming.
Advantages of MAPILab Reports for your IT-infrastructure:
Collecting of historical and statistical data
Inventory of hardware/software
Preparation for migration and upgrade
Security audits
Bottlenecks identification
Lowering of total cost of ownership
Download 30-days trial version of MAPILab Reports 2008
You can download (20241 KB) MAPILab Reports 2008 and test it before purchasing:
Ordering Information
MAPILab Reports 2008 free of charge
any license package includes 1 administrator console for data collection and report building
additional administrator consoles only for report building is free
Report Packs pricing is in the table below.